Posted by Month Of Sundays on 4th Apr 2022
Struggle to know where to start with weaning? Or with getting your toddler to eat more than marmite toast? I stumbled upon Bethany's brilliant Instagram page @themummydiet_ some time ago and just adore her inspirational yet simple family recipes. Here, she imparts all of her weaning wisdom and has even shared some delicious family favourites for us to try in our own kitchens...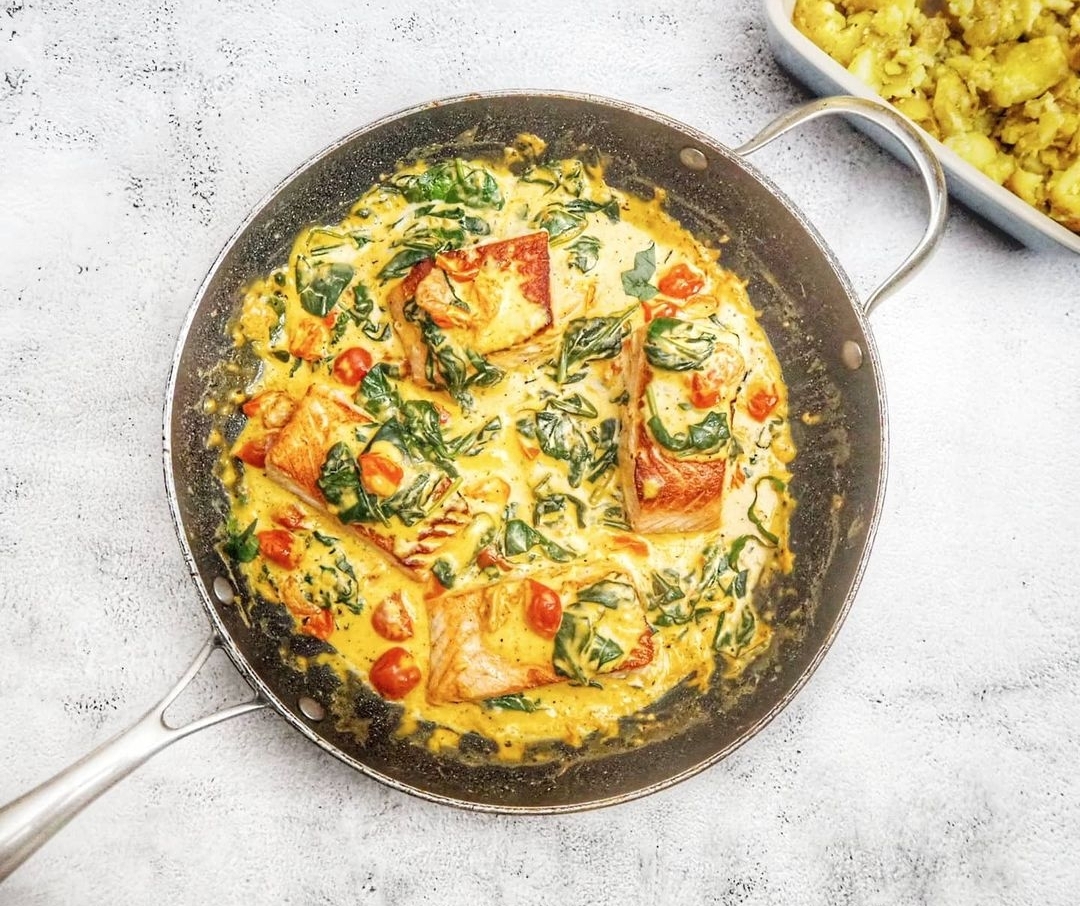 Hi Bethany! Your meals always look so delicious - what is the favourite recipe in your household?
Thank you so much. I like to make simple, easy meals with a twist to give them that wow factor. We have a few meals in our house which are always on rotation. I am always being tagged in my Tuscan Butter Salmon recipe (below) which is definitely one of my family's favourites.
What tips would you give to parents like me who have fussy eaters?
I think that most children go through this phase, and it's completely normal. Try to limit snacks throughout the day, and have the family eat together to help encourage your little fussy eater. Give small portions as children can get overwhelmed by a large plate of food and offer lots of variety. Keep offering the food they are refusing to eat at different occasions; it can take up to 10 times trying a new food for your child's taste buds to accept it, and when they do take a nibble make a big deal out of it, with lots of praise and positive reinforcement.
What are the ideal first foods for little ones?
Weaning is such an exciting time in your child's development. Batch cook plenty of combinations. My son Maxie's first food was broccoli and then carrot and swede, but within days he was eating chicken curry! You can offer spice to your baby's diet at as early as 6 months. All of my recipes are suitable for weaning, whether you are using the traditional weaning method or baby led weaning.
Best on-the-go snacks for toddlers?
My go to snacks for kids are my frittata fingers (recipe below) which are packed with protein and vitamins for lots of energy. However, if we're in a rush you can't beat colourful chopped up fruit and vegetables, or even blend them into a delicious smoothie!
With things starting to return to normal, imaging you're hosting family and friends with kids of all ages. What do you cook?
I will definitely want to make something I can pre-prepare to spend as much time as possible with family and friends when they're here! Perhaps my Caribbean Chicken Curry, or Baby Beef Bourguignon (both recipes below) which is a real crowd pleaser and can be prepared the day before, simply pop it in the oven before your guests arrive.
Thank you so much to Bethany for all of this advice plus the delicious recipes she's sharing with us all below. Don't forget to follow @themummydiet_ for more tasty tidbits!
Caribbean Chicken Curry
Serves 4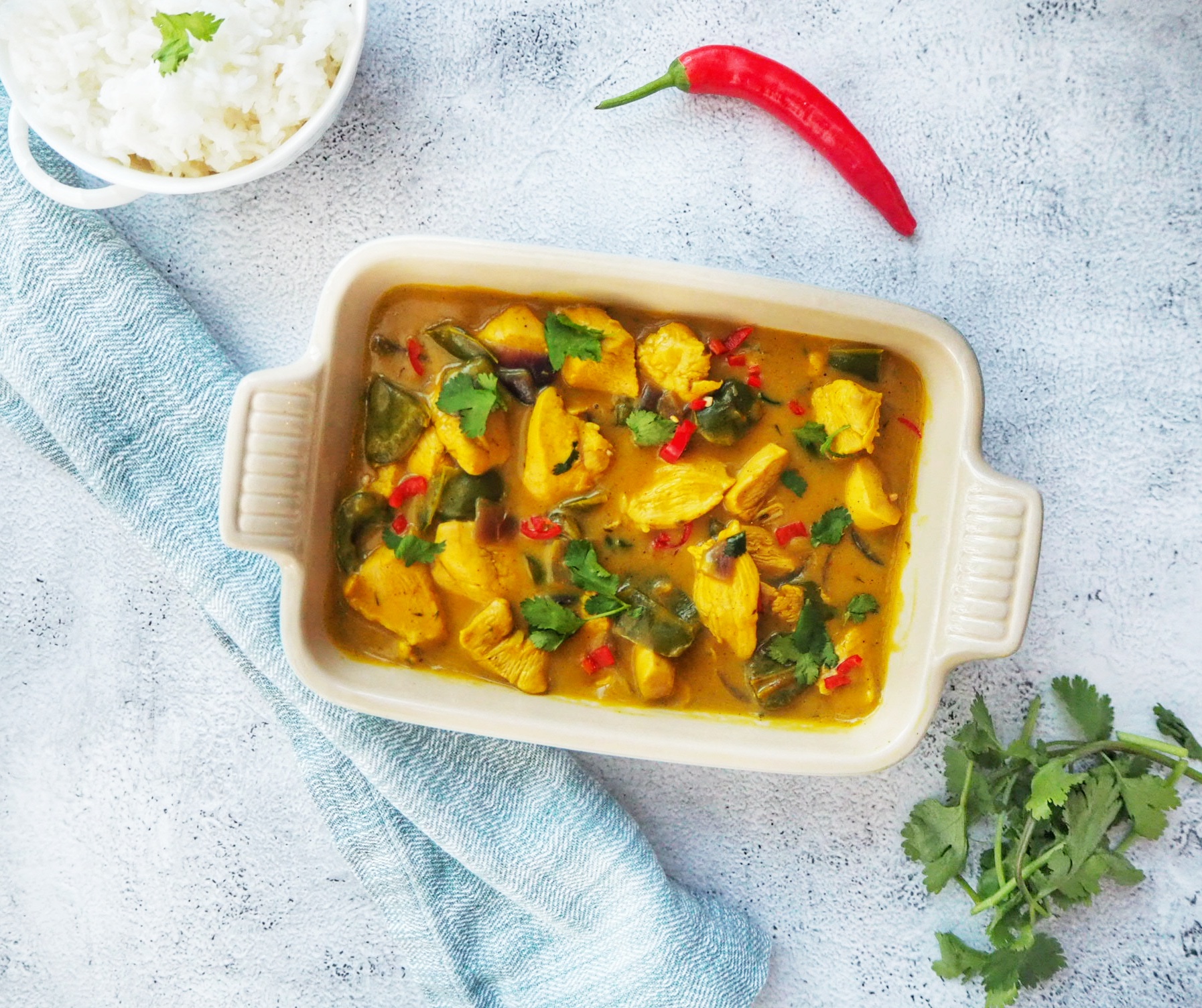 Ingredients
400g diced chicken breast
1 green bell pepper
1 red onion
3 cloves of garlic
1 tsp thyme
1/2 tsp allspice
1/2 tsp black pepper
1 tsp nutmeg
1/2 tsp cinnamon
1 tsp turmeric
1 can of coconut milk
1 low sodium chicken stock cube
1 bunch of coriander, leaves separated and stalks finely chopped
1 tbsp vegetable oil
Method
Heat the oil in a large pan and add the chicken, making sure it is seared all over, then add the vegetables and cook for around 5 minutes until they begin to soften.
Add the garlic, and the dried herbs and spices coating the chicken and vegetables.
Add the coconut milk and bring to a gentle simmer, then crumble in the stock cube and add the chopped coriander stalks.
Simmer for around 15 minutes stirring occasionally, so the sauce can thicken.
Serve with fresh coriander leaves and chillies if desired.
Baby Beef Bourguignon
Serves 4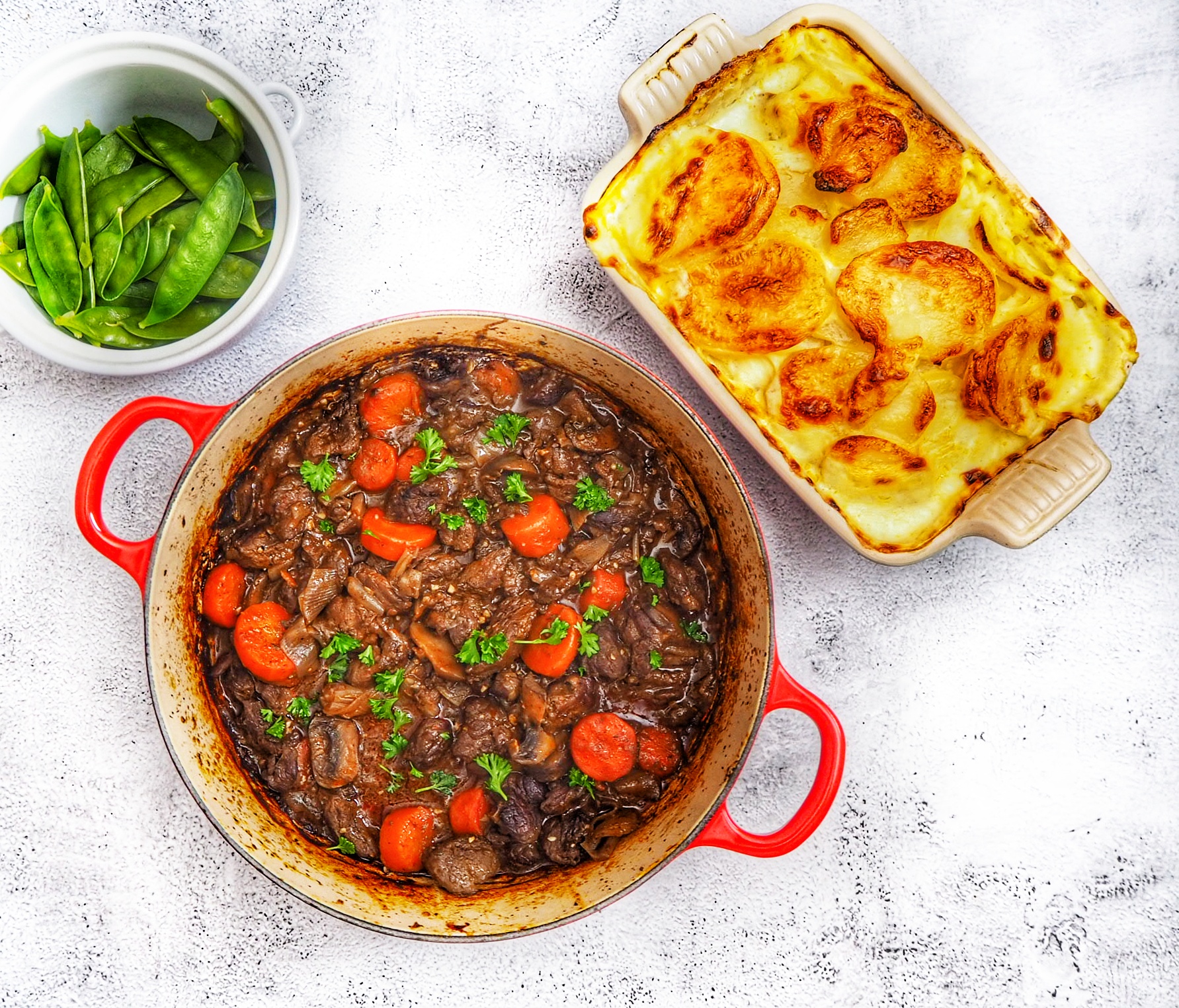 Ingredients
500g diced braising steak
400ml low sodium beef stock
1/2 tbsp Italian or Mixed herbs
4 garlic cloves crushed
3 carrots sliced
40g shallots (whole or sliced)
40g mushrooms sliced
2 tbsp tomato puree
1 tbsp balsamic vinegar
1 tbsp vegetable oil
Method
In an oven proof casserole dish, heat the oil and then add the beef, searing it all over.
After around 5 minutes, add the shallots, carrots and mushrooms and stir together, then add the tomato puree, garlic, herb mix and the stock.
Being the pan to the boil and leave to simmer for 15 minutes.
Preheat oven to 170c, add a lid to the casserole dish and cook in the oven for 1hr 20mins.
Serve with fresh parsley and your choice of side dishes.
Tuscan Butter Salmon
Serves 4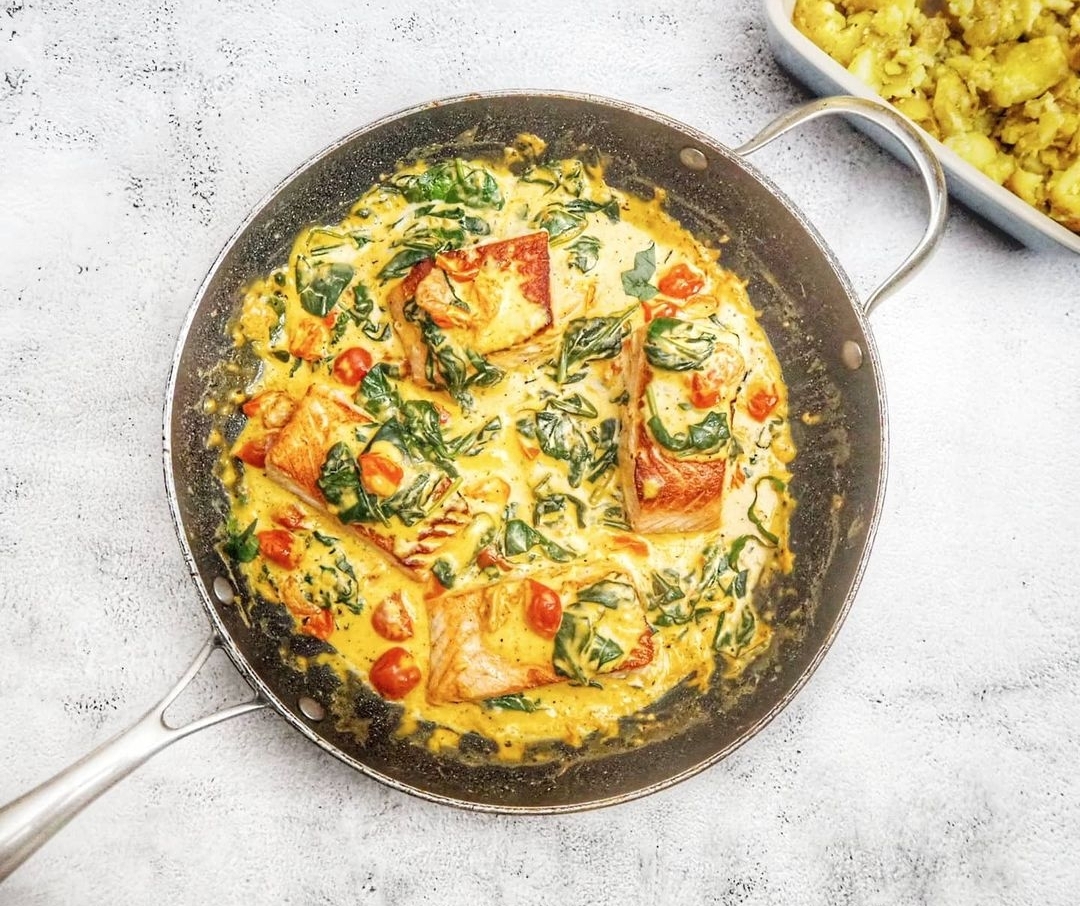 Ingredients
Half side of salmon quartered
Small bag of Spinach
1/2 pack of baby plum tomatoes halved
2 tbsp parmesan
150ml double cream
1/2 tbsp dried basil
1 bunch of chopped fresh basil
3 cloves of garlic crushed or diced
1 tbsp butter
1 tbsp olive oil
Method
Heat the olive oil in a large pan.
Salt both sides of the salmon just before cooking then place it skin side down for approximately 3 minutes. Do not overcook your salmon, once it turns light pink halfway up the fillet flip it for another two minutes.
Put the salmon in a dish to one side, then add the butter to the pan.
Once the butter has melted, add the tomatoes, dried basil and garlic, cook for a couple of minutes then add the spinach.
Once the spinach has wilted add the cream and the parmesan.
Leave to simmer for a few minutes then stir in the fresh basil add the salmon back to the pan, coating it in the sauce.
Red Pepper Courgette Frittata Fingers
Makes 8 Fingers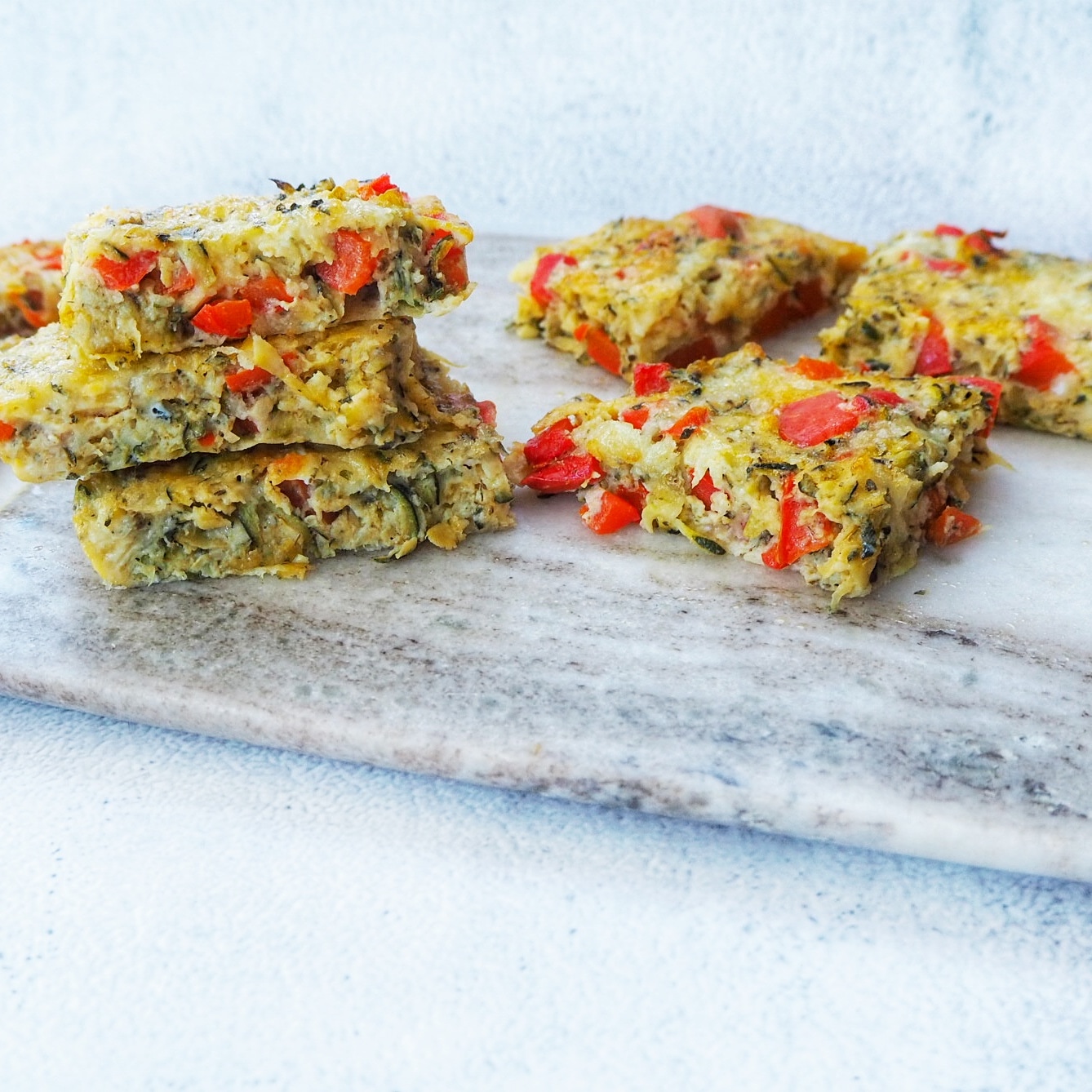 Ingredients
1 courgette grated
2 red peppers diced
3 eggs
50g cheddar cheese
1 tbsp flour (normal or gluten free)
1/2 tsp Italian or mixed herbs
1/2 tbsp vegetable oil
Method
Whisk together the eggs, cheese, flour and mixed herbs.
Dice the pepper and squeeze any excess liquid out of the courgette using a muslin, before frying them in the vegetable oil until soft.
Transfer to a baking dish lined with parchment paper, then add the egg mixture.
Cook in the middle of a preheated oven for 18 minutes at 190c.
Leave to cool before cutting in half horizontally, and then half again vertically twice more, making 8 even easy to eat fingers.